Spiralling
The lovers are losing
Better than this
You haven't told me anything
Perfect symmetry
You don't see me
Again and again
Playing along
Pretend that you're alone
Black burning heart
Love is the end
Date de sortie internationale : 13 octobre 2008 (10 octobre en Belgique et Suisse, 17 novembre en France)
Date de sortie USA/Canada : 14 octobre 2008
Notes : L'album s'est classé n°1 des ventes au Royaume-Uni dès la première semaine.
Version Deluxe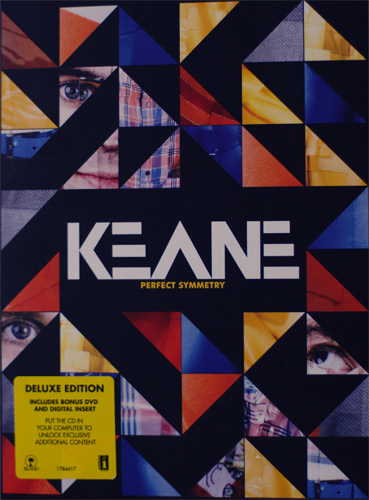 Spiralling
The lovers are losing
Better than this
You haven't told me anything
Perfect symmetry
You don't see me
Again and again
Playing along
Pretend that you're alone
Black burning heart
Love is the end
Le coffret contient également un DVD :
Documentaire sur le making of de Perfect Symmetry
Démos des chansons
Commentaire piste par piste
Date de sortie internationale : 13 octobre 2008 (10 octobre en Belgique, 17 novembre en France)
Date de sortie USA/Canada : 14 octobre 2008
Notes : le DVD est multi-région et peut donc être lu dans tous les pays. Il existe 2 éditions de la version deluxe : une au format DVD avec le dvd décrit ci-dessus et une au format cd contenant 2 cds, le 2ème contenant les démos des chansons et permettant d'accéder aux vidéos sur le site officiel.