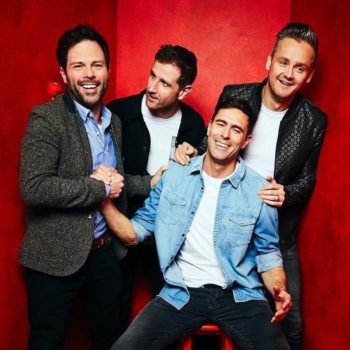 The band has come a long way from its beginnings to this day, from self-released EPs to platinum records, from small bar gigs to large venues around the world, from a trio to a quartet, from ambitious young musicians to accomplished and fulfilled artists!
Keane's story is rich in emotion, always with a twist. Tim Rice-Oxley (piano), Tom Chaplin (vocals, guitar), Richard Hughes (drums) and Jesse Quin (bass) know how to make sparks fly. After surfing on a wave of success, the band members are now more in tune with each other, and the watchword is having fun, without knowing what's next.
In 2024, the band will be celebrating "Hopes and Fears", and will be back on stage to celebrate its success, 20 years ago!
The band's story began in 1997 with a group of friends in Battle, southern England. After a difficult first few years, the tide turned in 2002 when they were spotted by independent label Fierce Panda, who signed them to their first contract. The first single, "Everybody's changing", was released, followed by "This is the last time", to positive reviews. This led to more radio play and concerts, and the band was signed to Universal's Island label. 2004 was the year of consecration for Keane, with the release of the album "Hopes and Fears", which brought them success in the UK and around the world. With a steady stream of requests and tours, everything was looking up for the band.
Without taking the time to catch their breath, Keane released their second album "Under the iron sea" in 2006, whose darker touch echoed the difficult times Keane were going through at the time, linked to singer Tom Chaplin's drug problems. Subsequent tours and singles production were affected, but the band managed to turn things around and ended 2007 with a triumphant arena tour of the UK. This time around, the band took time out to rest, and 2 years later released their third album, Perfect Symmetry.
This uncomplicated third album surprised fans and critics alike, but ushered in a much happier period for the band, who toured the world in the years following its release. This period ends with the release of the experimental maxi "Night train", a collection of tracks and collaborations made during this period, giving a bric-a-brac feel to this mini-album released in 2010.
After several years as a three-piece, Tim, Tom and Richard were joined by Jesse Quin on bass. Starting out as a simple collaboration, the chemistry developed and Jesse finally officially joined the band. So it's the 4 of them who continue to write the new pages in Keane's history.
In 2012, they release their 4th studio album, entitled "Strangeland"... 4 years after the previous album "Perfect Symmetry"! A break that sounds like a return to their roots for the band, both personally and musically. The rediscovered piano-pop melodies both reconcile die-hard fans and win over new hearts around the world. Keane continues to distill the indescribable pleasure that comes with every listen!
In 2013, the band released its first Best-Of album and went on a short tour. But the quartet is a bit out of breath. Jesse became a father for the second time, Tom wanted to release a solo album... So it was by mutual agreement that the band decided to take a "long break", in order to develop their personal and artistic lives.
After long years of uncertainty, sailing their separate ways, the group seems to have broken up for good. But that's without counting the ties that keep them going. They reunited for a concert at Battle in 2018. Shortly before, Tim shared with them songs he had written, inspired by his painful divorce. It didn't take much for the pleasure of playing together to be rekindled, and the seeds of Cause And Effect to be planted. September 2019 sees the release of the band's 5th album, followed by a tour of the UK, Europe, Latin America and North America, unfortunately cut short by the Covid-19 pandemic. This album marks the start of a second phase in the band's history, less dense, more spontaneous and more in tune with their life as fathers.