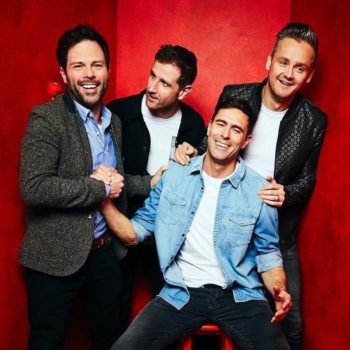 The band has come a long way from its beginnings to this day, from self-released EPs to platinum records, from small bar gigs to large venues around the world, from a trio to a quartet, from ambitious young musicians to accomplished and fulfilled artists!
Keane's story is an emotional one, with a twist now and then. Tim Rice-Oxley (piano), Tom Chaplin (vocals, guitar), Richard Hughes (drums) and Jesse Quin (bass) know how to make sparks fly. After a long hiatus and years of uncertainty, they are back with Cause and Effect, an album that will hopefully be the first of a second series. A second phase in the band's history, which will undoubtedly be less dense, more spontaneous and adapted to their life as fathers. No more albums and tours, but listening to each other and enjoying, without knowing what will happen next. One thing is certain, Keane has not finished surprising us.
The band's story began in 1997 with a group of friends in Battle, southern England. After a difficult first few years, the tide turned in 2002 when they were spotted by the independent label Fierce Panda, who signed their first contract. The first single 'Everybody's changing' was released, followed by 'This is the last time', which was well received. This allowed the band to increase their radio play and concerts, and to sign with the Island label of the "major" Universal. The year 2004 was the year of consecration for Keane, with the release of the album 'Hopes and Fears' which brought them success in the UK and around the world. The requests and tours followed and everything was going well for the band.
Without taking time to catch their breath, Keane released their second album 'Under the Iron Sea' in 2006, whose darker feel echoed the difficult times Keane were going through at the time, linked to singer Tom Chaplin's drug problems. Subsequent touring and singles production were impacted but the band managed to turn things around and ended 2007 with a triumphant arena tour of the UK. This time the band took time to rest and relax and two years later released their third album 'Perfect Symmetry'.
This third album surprised the fans of the first hour and some critics but opened a much more joyful period for the band, which toured the world in the years that followed its release. This period ends with the release of the experimental EP 'Night Train', a collection of tracks and collaborations made during this period that gives a bric-a-brac feel to this mini-album released in 2010.
After several years as a three-piece, Tim, Tom and Richard were joined by Jesse Quin on bass. Initially started as a simple collaboration, the chemistry was made and Jesse finally joined the band. The four of them continue to write the new pages of Keane's history.
In 2012, they release their 4th studio album, entitled "Strangeland"... 4 years after the previous album "Perfect Symmetry"! A break that sounds like a return to their roots for the band, both from a personal and musical point of view. The rediscovered piano pop melodies reconcile both the fans of the first hour and conquer new hearts throughout the world. Keane continues to distil that unspeakable joy that every listen brings!
In 2013, the band released its first Best-Of album and went on a short tour. But the quartet is a bit out of breath. Jesse became a father for the second time, Tom wanted to release a solo album... So it was by mutual agreement that the band decided to take a "long break", in order to develop their personal and artistic lives.
After many years of going their separate ways, the group seems to have broken up for good. But that's without counting the ties that keep them going. They reunited for a concert at Battle in 2018. Shortly before, Tim shared with them the songs he wrote, inspired by his painful divorce. That's all it took for the joy of playing together to be rekindled, and the seeds of Cause And Effect to be planted. In September 2019, the band's 5th album was released, followed by a tour through the UK, Europe, Latin America and North America, unfortunately cut short by the Covid-19 pandemic.
Born on 8 March 1979

Tom is a childhood friend of Tim's, and in 1997 he joined the Lotus Eaters trio (Tim, Richard and Dominic Scott), as guitarist and singer. He will keep Keane's microphone, and we know the rest...

In addition to guitar and vocals, he also plays piano and organ on some live tracks.

Loud and joking, Tom knows how to set the mood on stage and backstage. His voice and his jackets always dazzle us. His introverted nature has unfortunately led him down darker paths of drug and alcohol addiction, notably in 2006 and 2015. 

In 2016, he released his first solo album "The Wave", inspired by his difficult path to sobriety. In 2017 he also released a Christmas album entitled "Twelve Tales of Christmas".

He is sometimes active on Instagram or Twitter, where he posts a few jokes, or gets angry at trolls, depending on the mood. A doting father, he remains discreet about his private life, but his passion for golf and his love for his home are no longer a secret.

After a few years, the voice of Keane has become more mature, more confident, and sounds more fulfilled than ever!
Born on 8 September 1975

Richard met Tom, Tim and Dominic at Tonbridge School in Kent. Colour-blind from birth, he was a secretary at the BBC and a geography teacher before the group's success.

He is the drummer for Keane, but any fan of the band would tell you "more than that". Down to earth and infinitely kind, Richard is Keane's "customers service", always friendly and available off stage, and with an excellent memory!

Very active on social networks, especially Twitter, he communicates on many things. A coffee lover, cat lover, cyclist, climber, photographer, he is also an active member of Amnesty International and follows politics closely.

He became a father in 2016. Over the years, he has remained true to himself and has not lost any of his talents. A "gem", as they would say.
Born on 3 September 1981

With a mother who is a singer and a father who is a sound engineer, Jesse was immersed in the world of music from an early age.

In 2007, Jesse was a sound technician during Keane's tours and a member of another band, "Jesse Quin & The Mets". It was at a War Child concert in November of that year that Jesse joined the band on stage to play "Under Pressure", a song requiring a bass player.

This was the first of many concerts. He will indeed continue to accompany the band during the creation and the concerts of Perfect Symmetry and Night Train, before officially joining the band on... February 3rd 2011 !

A talented musician (he sings, and plays guitar, synth, bass, and probably more!), Jesse is appreciated from the beginning by the trio for his artistic contribution, but also his humour and mischievousness which bring freshness and novelty in the stressful atmosphere of Keane's dazzling success. It was therefore natural that Keane would become a quartet, long before they were officially integrated.

In 2010, he formed the country/folk influenced band Mt Desolation with Tim and other musicians, which produced two albums: "Mt Desolation" (2010) and "When The Night Calls" (2018).

Jesse is also the founder of an arts centre, located on an abandoned US Air Force base in southern England: Old Jet.

A father of two, Jesse is a keen photographer and regularly posts on Instagram.

Over the years, Jesse has been an integral part of the group, finding his place as a talent and an indispensable friend.
| | |
| --- | --- |
| | A VENIR |