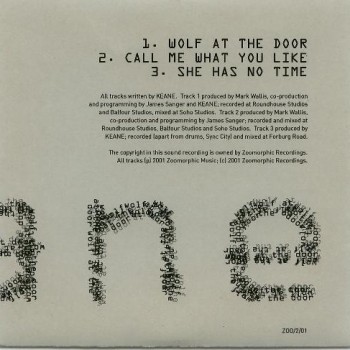 Single sorti sous le label Zoomorphic.
Date de sortie: Juin 2001
Notes: Seules 50 copies de ce single furent produites. Il semblerait que "Wolf At The Door" fut produit comme promo et fut très limité puique chaque single était fait maison gravé sur CDR.
La version de Call Me What You Like est différente de celle du single Call Me What You Like single (qui est plus lente); et She Has No Time est une version différente de celle trouvée sur l'album "Hopes and Fears".
Ce single a atteint des sommes record aux enchères avec des ventes à £738 (soit 1065€), £750 (soit 1081€), £729 (soit 1051€) et £1001 (soit 1460€).