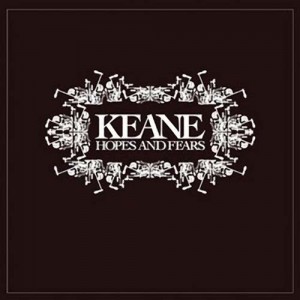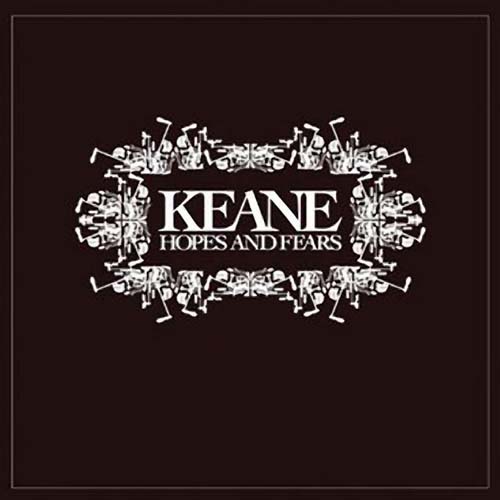 Art Cover
The objects on the cover of Hopes and Fears are piano hammers in allusion to the band's characteristic piano sound. The many different versions of the album can be distinguished by the colour of the artwork. The original UK version has a dark green cover, the European version a black one, the US version white; the international version has a red-brown scheme, and the Japanese version is blue.
The typeface selected for this, and for all Keane releases off the album was the font « Cochin », designed originally in 1912
International release date : 10 mai 2004 (14 septembre 2004 en France)
USA/Canada release date : 25 mai 2004
Notes : The album reached number 1 of UK charts the first week of its release.
En décembre 2004, l'album s'était écoulé à plus de 2 millions d'exemplaires. « Hopes and Fears » est devenu disque d'or (100000 exemplaires vendus) au cours des 3 premiers mois de sa mise en vente (source).
Meilleur classement dans le Top Album (France) : 5ème, du 16/04/2005 au 23/04/2005.
De nombreuses versions de cet album ont été éditées au cours des années.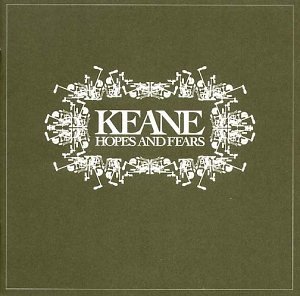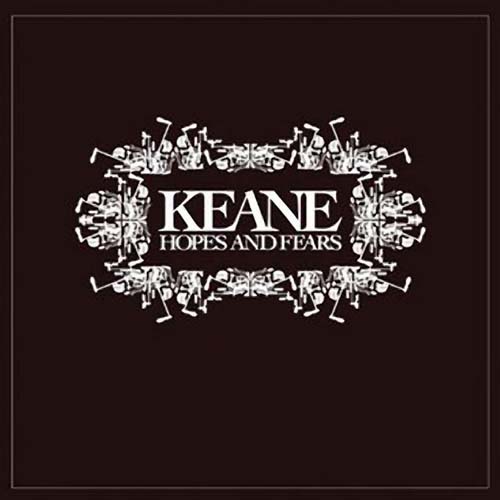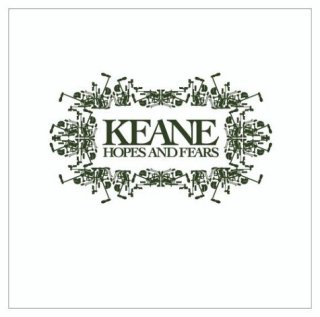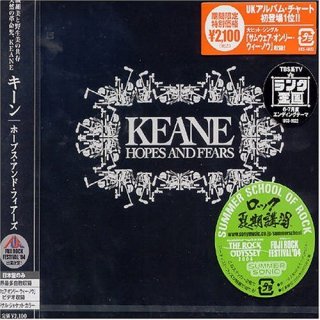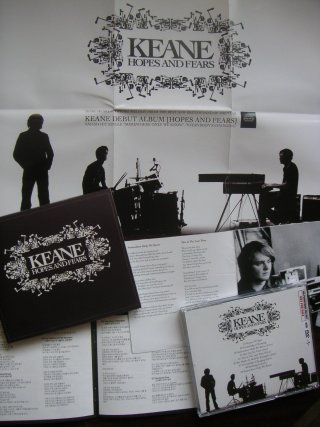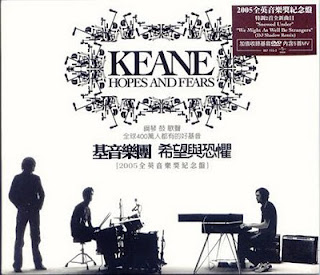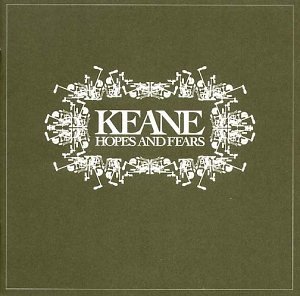 VERSION DU ROYAUME-UNI

Tracklist :
Release date : 10 mai 2004
Notes : La version britannique est une édition spéciale car y figure « On a day like today ». Apparemment l'album s'écoula à 155343 exemplaires dés la première semaine de sa sortie. Hopes and Fears est la deuxième meilleure vente d'album du Royaume-Uni pour l'année 2004 avec 1 593 677 copies de vendues (l'album des Scissors Sisters est en première position avec seulement 582 copies de plus!). L'album a été n°1 lors de sa sortie ainsi que la deuxième, quatrième et sixième semaine.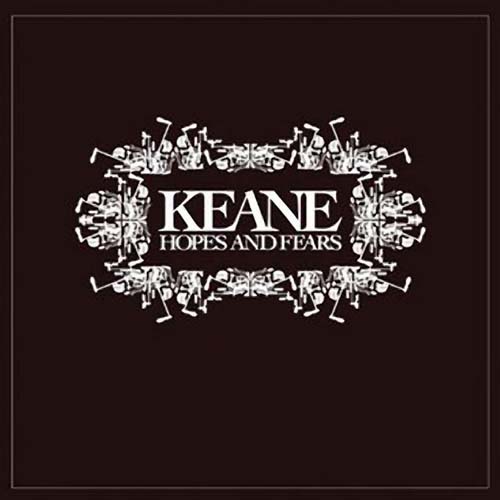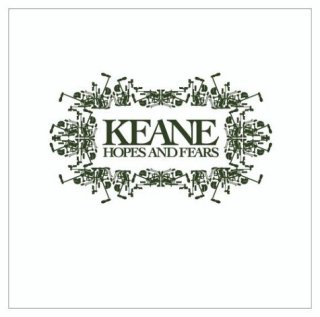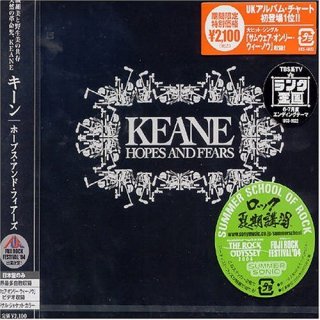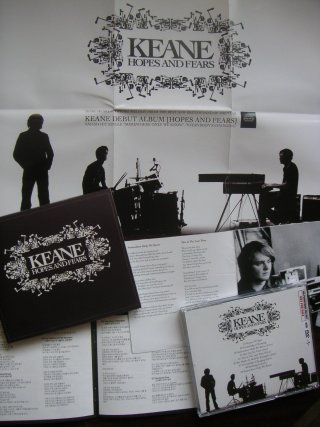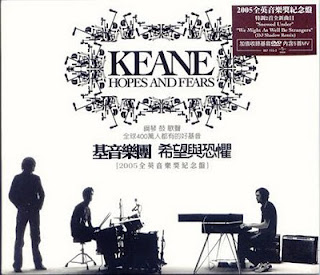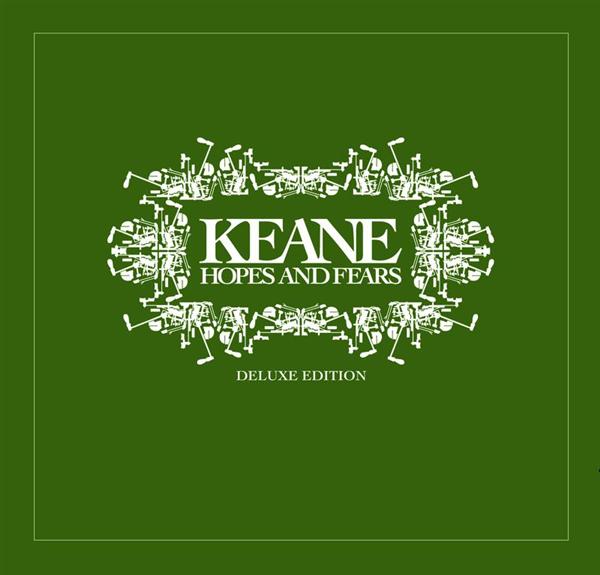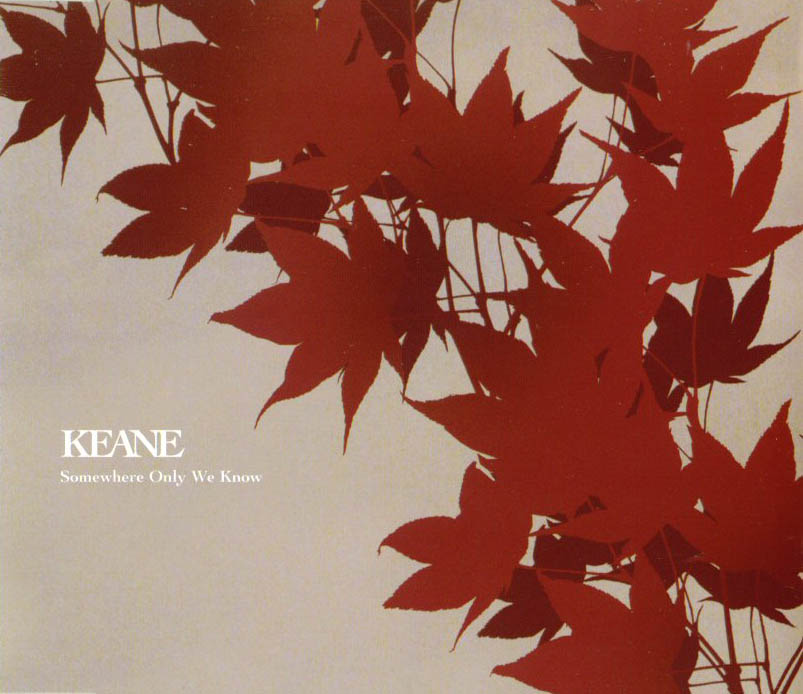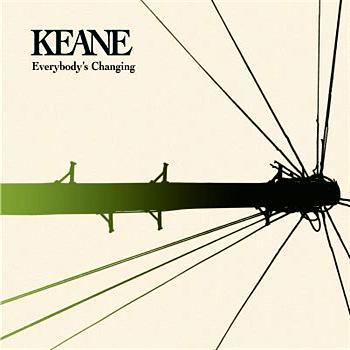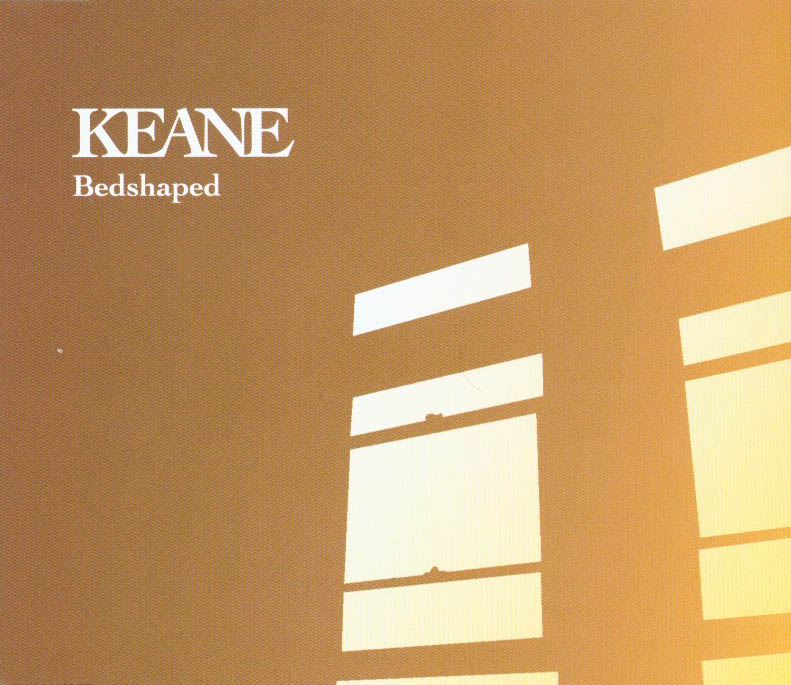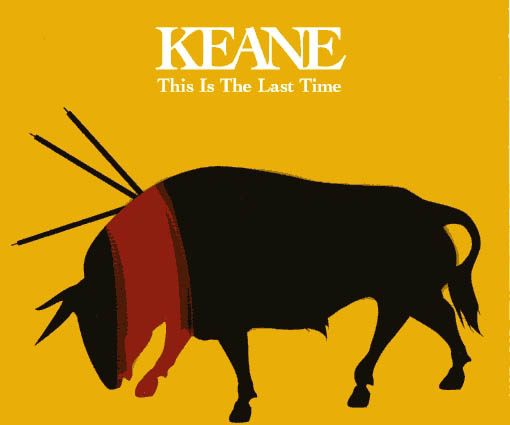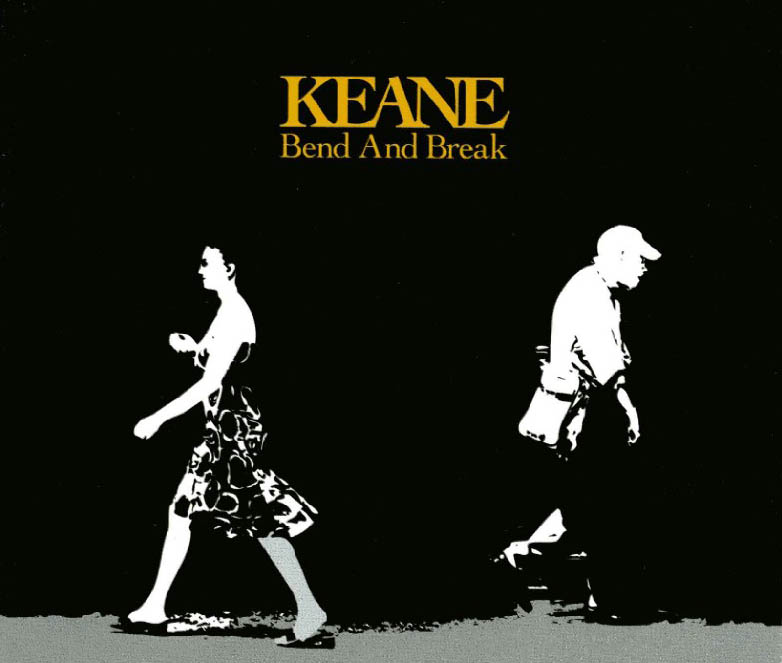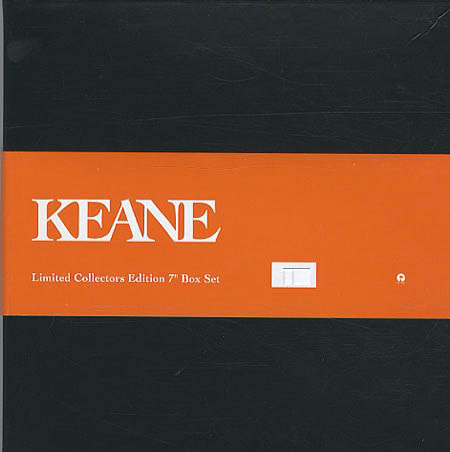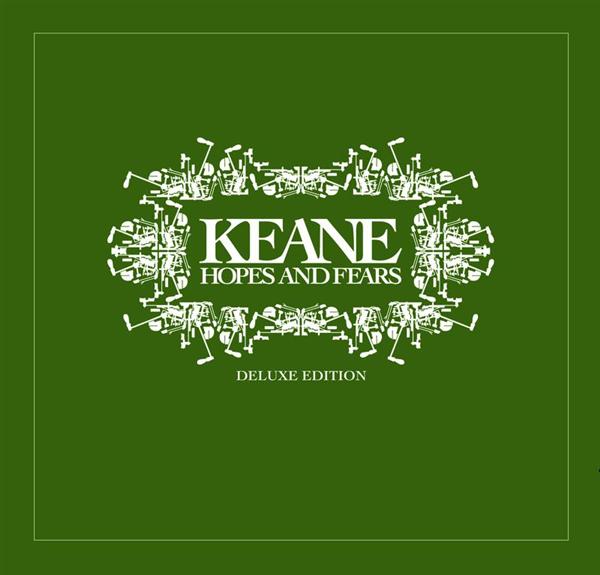 DELUXE VERSION
Date de sortie : 5 novembre 2009
Notes : Cette version est sortie pour célébrer les 5 ans de la sortie de l'album.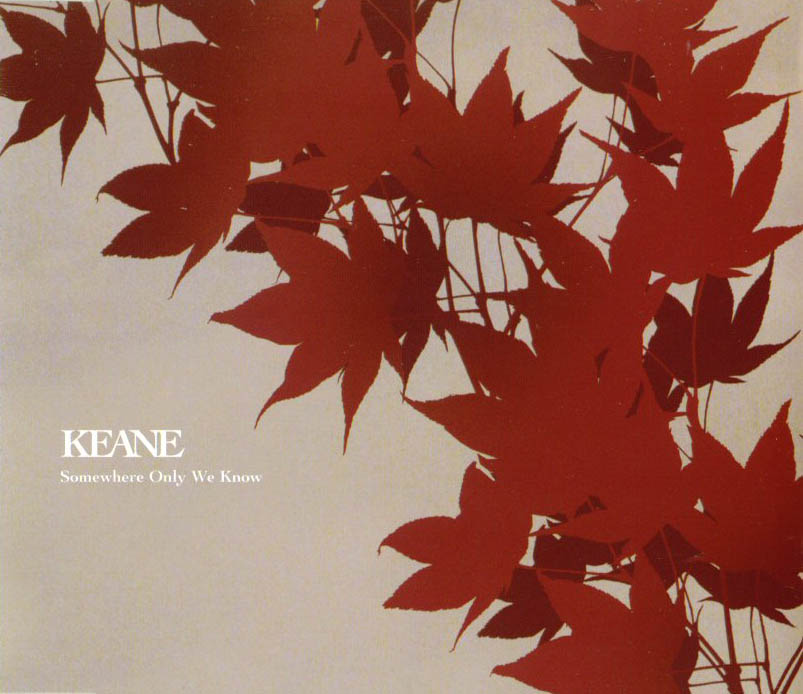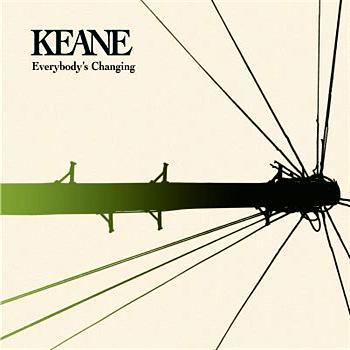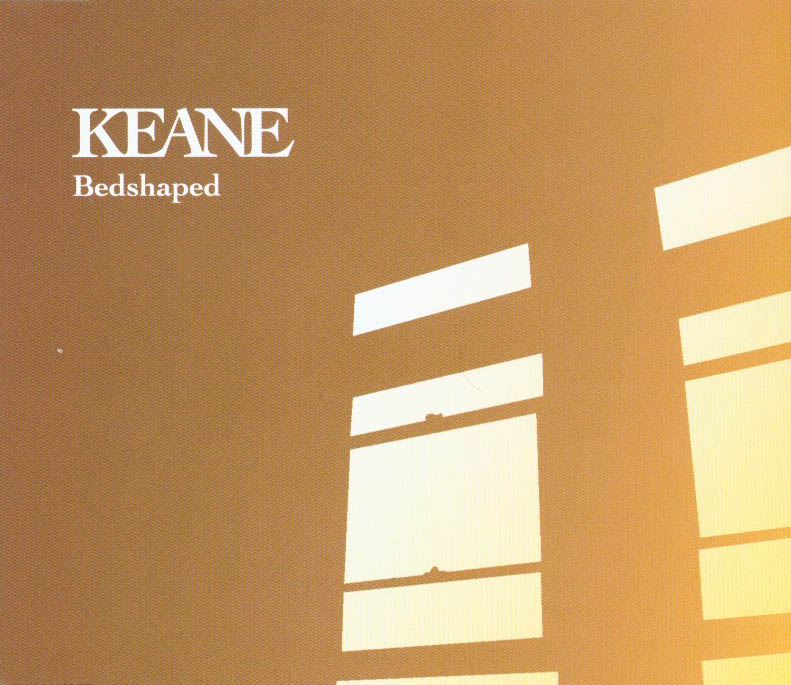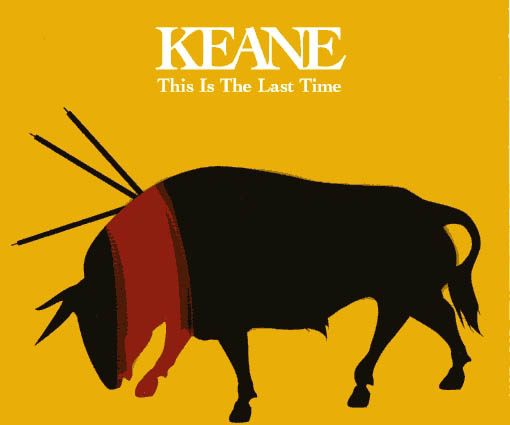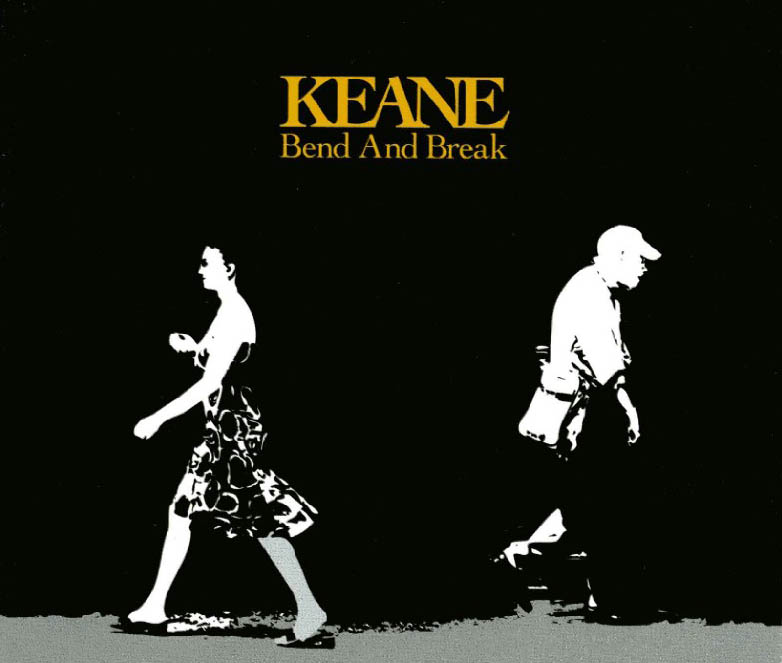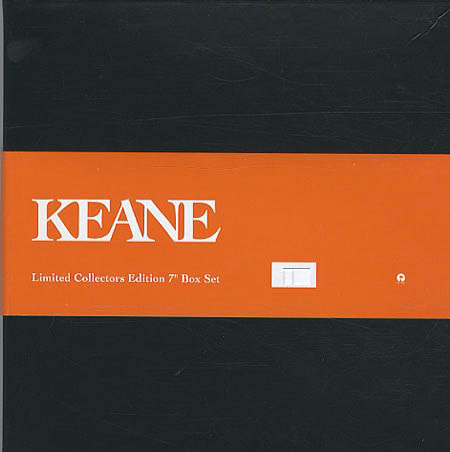 PRE-Hopes and Fears (2003)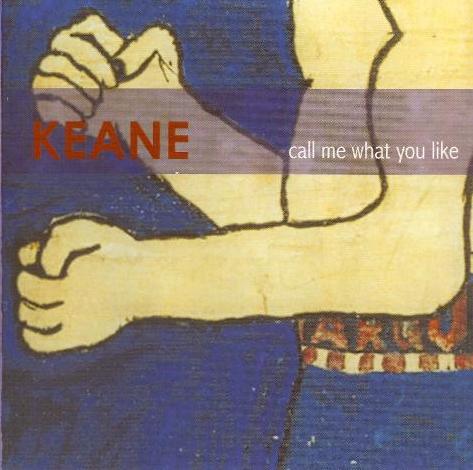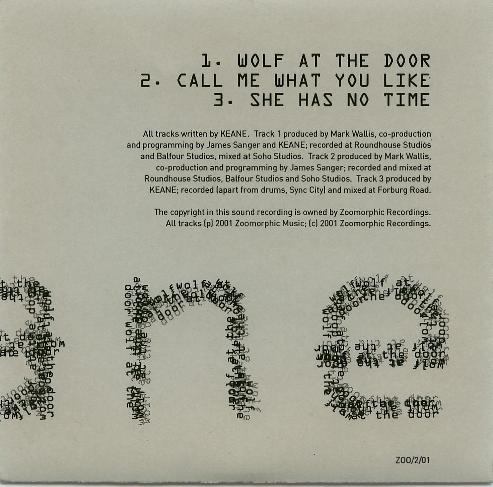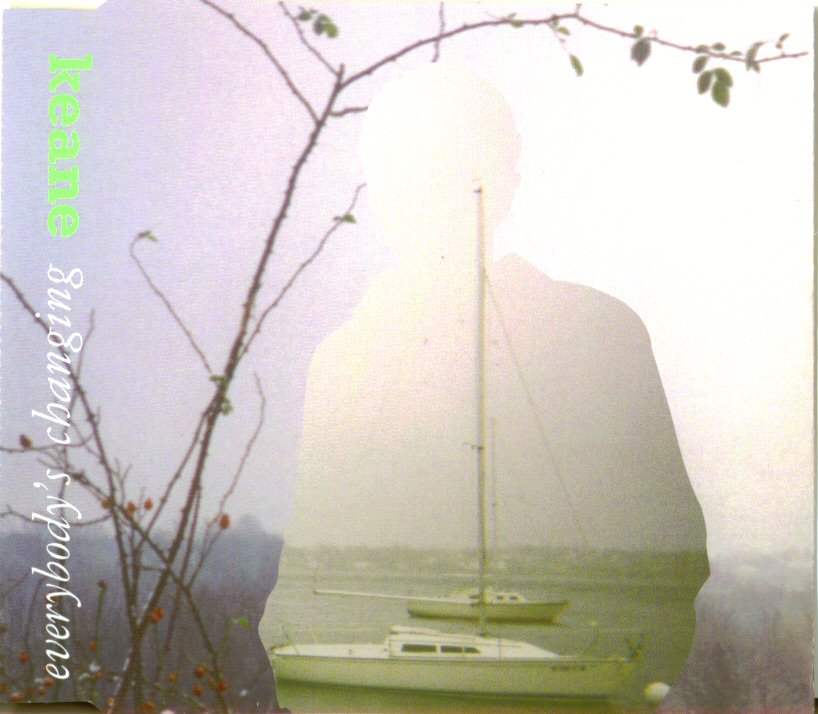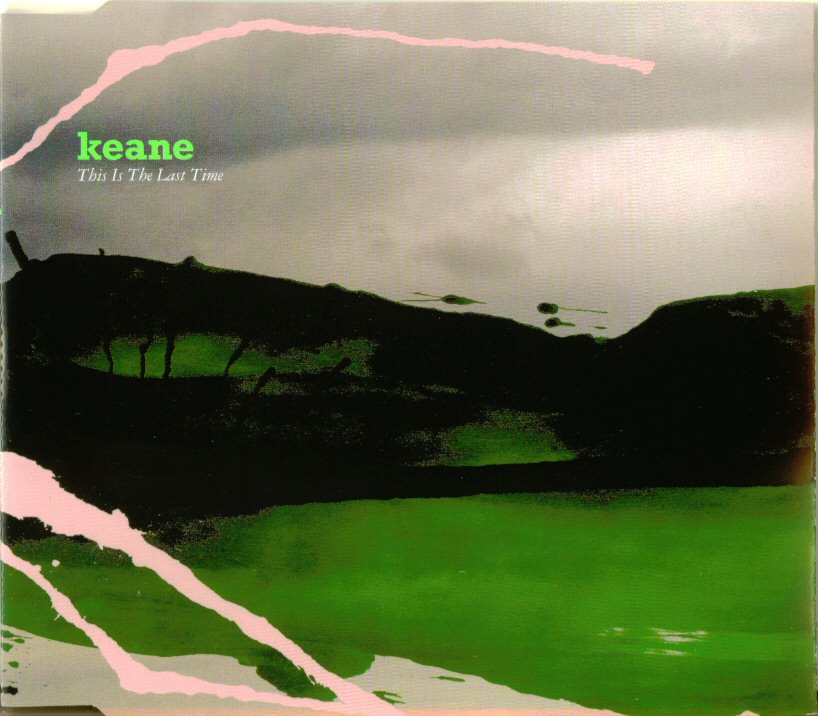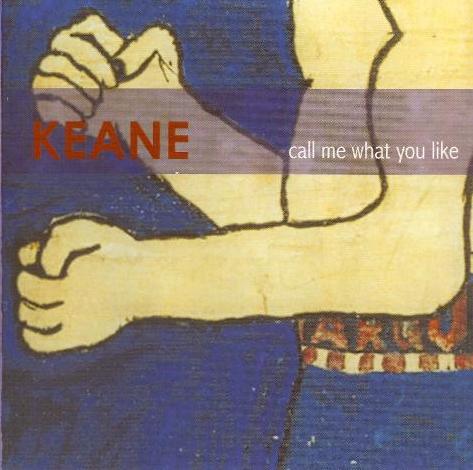 SINGLE – CALL ME WHAT YOU LIKE
Tracklist :
Date de sortie : 31 janvier 2000. Single sorti sous le label Zoomorphic.
Notes : Seules 500 copies de ce single furent éditées.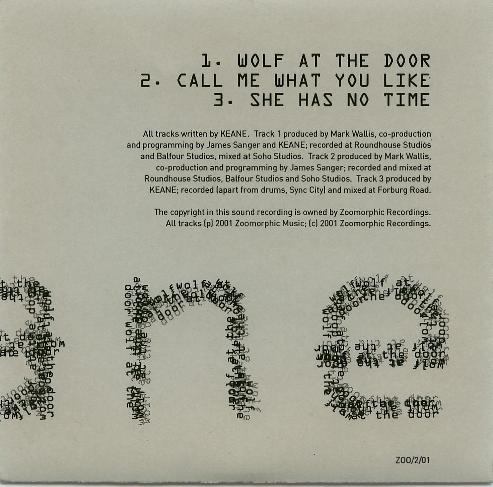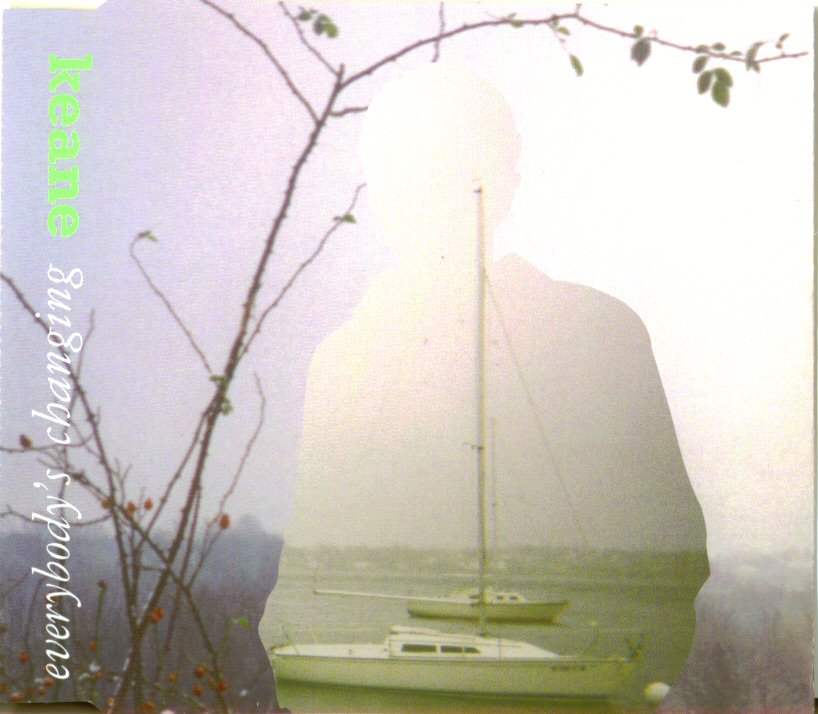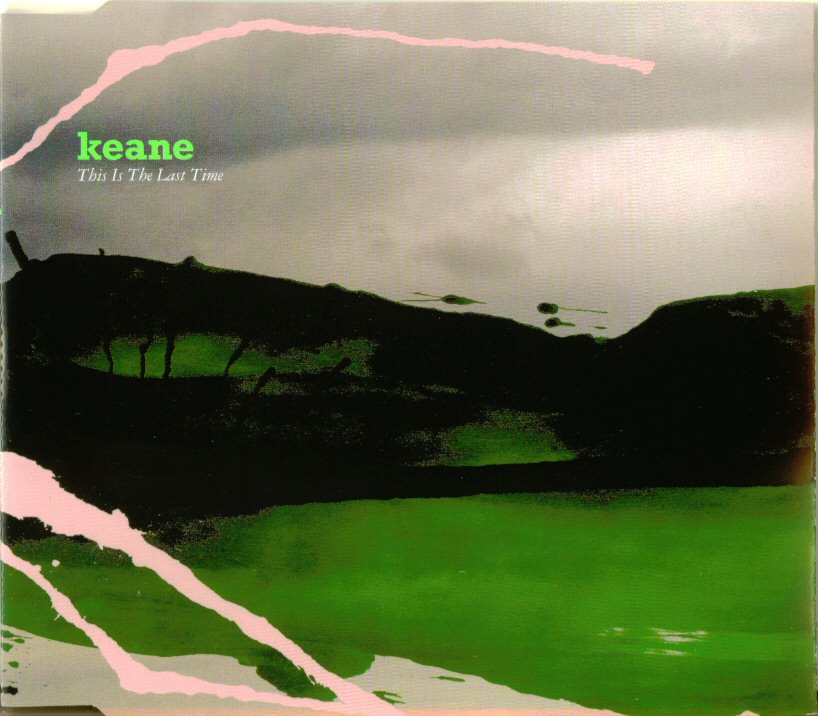 Somewhere only we know
Bend and break
We might as well be strangers
Everybody's changing
Your eyes open
She has no time
Can't stop now
Sunshine
This is the last time
On a day like today
Untitled 1
Bedshaped
Snowed Under
Walnut Tree
To The End of the Earth
Fly To Me
Something In Me Was Dying
Untitled II
She Opens Her Eyes
Allemande
A Heart To Hold You
Call Me What You Like
Rubbernecking
Closer Now
Wolf At The Door
The Way You Want It
Somewhere only we know
PAROLES

Rice-Oxley/Chaplin/Hughes

I walked across an empty land
I knew the pathway like the back of my hand
I felt the earth beneath my feet
Sat by the river and it made me complete
Oh simple thing where have you gone
I'm getting old and I need something to rely on
So tell me when you're gonna let me in
I'm getting tired and I need somewhere to begin

I came across a fallen tree
I felt the branches of it looking at me
Is this the place we used to love?
Is this the place that I've been dreaming of?

Oh simple thing where have you gone
I'm getting old and I need something to rely on
So tell me when you're gonna let me in
I'm getting tired and I need somewhere to begin

And if you have a minute why don't we go
Talk about it somewhere only we know?
This could be the end of everything
So why don't we go
Somewhere only we know?

Oh simple thing where have you gone
I'm getting old and I need something to rely on
So tell me when you're gonna let me in
I'm getting tired and I need somewhere to begin

And if you have a minute why don't we go
Talk about it somewhere only we know?
This could be the end of everything
So why don't we go
Somewhere only we know?

This could be the end of everything
So why don't we go
Somewhere only we know?

A PROPOS

« It's about being able to draw strength from a place or experience you've shared with someone. I think it's an idea a lot of people can relate to. » (Tim,The Mirror)

« I was thinking of something like David Bowie's 'Heroes ', which you drive along to a really rocking beat. I really like the bridge and it's great fun to play live. It was one of the first things we recorded for the album. » (Tim, Billboard.com)

« We've been asked whether 'Somewhere Only We Know' is about a specific place, and Tim has been saying that, for him, or us as individuals, it might be about a geographical space, or a feeling; it can mean something individual to each person, and they can interpret it to a memory of theirs… It's perhaps more of a
theme rather than a specific message… Feelings that may be universal, without necessarily being totally specific to us, or a place, or a time… » (Richard, Rockfeedback.com Source)

Bend and break
We might as well be strangers
Everybody's changing
Your eyes open
She has no time
Can't stop now
Sunshine
This is the last time
On a day like today
Untitled 1
Bedshaped
Snowed Under
Walnut Tree
To The End of the Earth
Fly To Me
Something In Me Was Dying
Untitled II
She Opens Her Eyes
Allemande
A Heart To Hold You
Call Me What You Like
Rubbernecking
Closer Now
Wolf At The Door
The Way You Want It